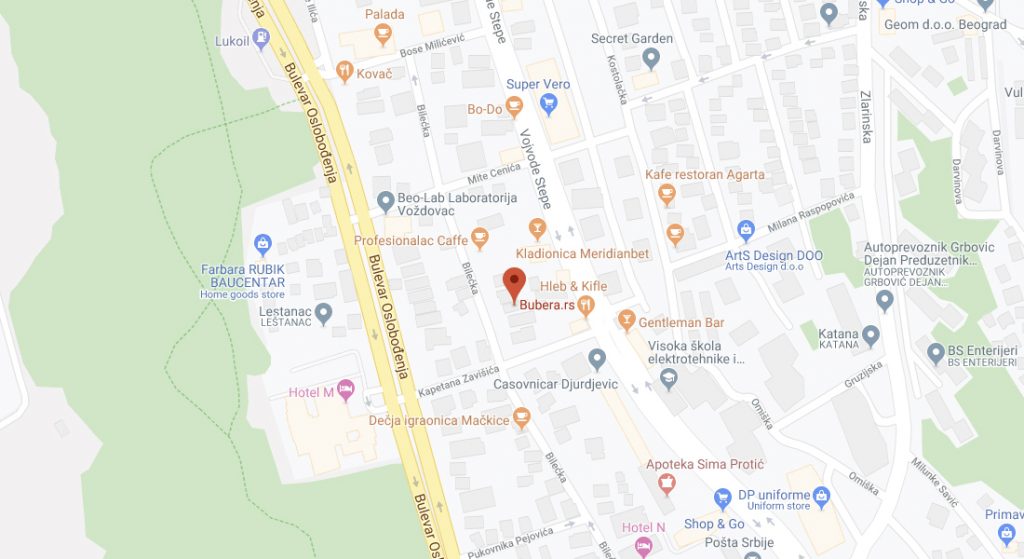 Please schedule your appointment in advance.
Phone: +381 (0) 64 13 76 144
E-mail: ordinacija@bubera.rs
If we do not answer to your mobile phone call or our mobile phone number is currently unavailable, it means that we cannot respond to your call at the moment.
In this case, please send the message to the same number.
You can also send messages to the same phone number via Viber or WhatsApp application. Please write your name in the message and we will respond to you at our earliest convenience – usually later in the evening or the next business day.
Our office address:
31/2 Bilećka St. (ground floor)
We are located in the quadrant between Mita Cenić Street and Kapetana Zavišića Street, on one side and Vojvode Stepe Street and Bulevar Oslobođenja Street on the other. Number 31 is closer to Kapetana Zavišića Street and right next to number 33, in the basement of which the restaurant "Toscana mia" is located, which you will notice easily.
Transport:
Bulevar Oslobođenja Street – bus lines no. 47 and 48 – the bus stop immediately after the Faculty of Organizational Sciences (FON) and the petrol station "Lukoil", opposite the restaurant "Kovač".
Vojvode Stepe Street – bus lines no. 33 and E9 and tram lines no. 9,10,14 – stops in the vicinity of "Super Vero" supermarket and College of Electrical Engineering.
A TAXI station is located in Mite Cenića St., in the part closer to Vojvode Stepe Street.
Parking:
If you come by car, please park in "Super Vero" parking area in Vojvode Stepe Street – over-ground garage is free of charge, while underground parking area is available i period 7:30 21h and is free of charge the first two hours, while the third hour is RSD300 and fourth hour (end every subsequent hour) is charged RSD400 per hour, while daily ticket is charged RSD2500.